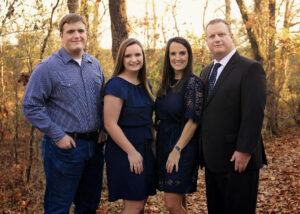 ARTIE HUDSON
The Hudsons feel so blessed to be in Charleston. They have a passion for Relational Evangelism, and believe the church family will mature and grow by church members having Christ-centered relationships that transcend into the community.
Artie grew up in Konawa, Oklahoma, where he also graduated from high school. Following high school graduation, he earned a Bachelor of Science in accounting from East Central University and managed the State of Oklahoma's southeast district of county audits, accumulating 11 years of service with the Office of the State Auditor. In July of 2008, while sponsoring a youth group at Falls Creek Youth Conference Center, Artie surrendered his life to pastoral ministry and was licensed and ordained by First Baptist Church, Seminole, OK, on November 15, 2009. He served as pastor of Calvary Baptist Church – Pawhuska, for six years and is excited to now be pastor of FBC Charleston. When he's not at the church, Artie enjoys hunting, fishing, golfing, and spending time with his family.
Emily was raised in Broken Bow, Oklahoma, and, after graduating from Broken Bow High, earned a Bachelor of Arts degree in Family Psychology and a Master of Science degree in Marriage and Family Therapy at Oklahoma Baptist University. Emily served as a counselor for therapeutic foster care and has, since, certified to teach special education she is a teacher at Charleston Elementary. She enjoys photography, sewing, deer hunting, fishing, and hanging out with her family.
Anna loves all things sports-related; plays soccer, basketball, and softball; and is an avid OU Sooners football fan.
Roy loves fishing and hunting and plays basketball, football, and baseball.